Religious Education and Family Ministries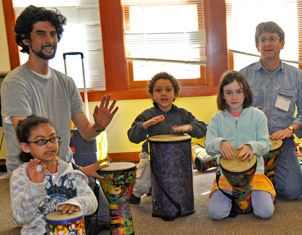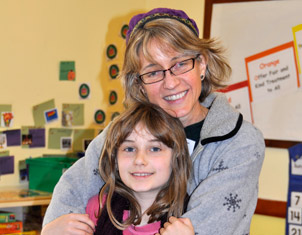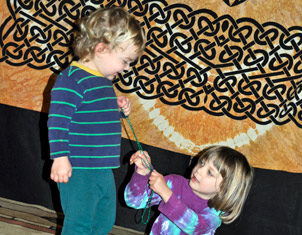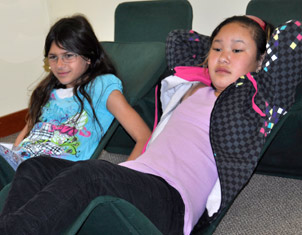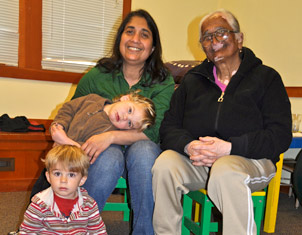 Welcome

In the Unitarian Universalist tradition, rather than baptize babies, we dedicate ourselves the care and nurturing of our children and their parents. We promise to love and cherish our children, always. We say we will build a community in which they can grow old surrounded by beauty, embraced by love and cradled in the arms of peace. We give them the building blocks with which to form their own belief rather than indoctrinating them into a system of thought. As Unitarian minister William Ellery Channing said in the early 1800s,"The great end of religious instruction is not to stamp our minds irresistibly upon the young but to stir up their own [minds]." This nurture and care is a shared responsibility of parents, non-parents, youth and professional staff. We welcome you to explore if what we offer is what you are seeking for your family.

Registration
All children under the age of 18 must be registered to attend the program. Guests need to register but may attend up to two times before paying the registration fee. Only youth in grades 7 to 12 need to fill out the supplemental youth form. You can fill out a registration form at church or get them online through the following links:

Sunday Morning Programs
For more information you can contact Laila Ibrahim, Director of Children and Family Ministry at laila@uuoakland.org.


Chalice Children: Infants to 5 year olds
(Sundays from 9:00am until 1:00pm, 1st floor)
Supervised childcare is offered for any child 5 and under in our first floor space. Free play, stories and simples snacks are offered. Parents are asked to bring diapers, drinking cup, and any preferred foods for their child. Once children are 4 years old, parents may choose to have them participate in the Children's Chapel followed by programs upstairs rather than be in the Chalice Children room.

Children's Chapel: Mature 4 year olds and up
(Sunday at 9:20am to 9:50am and again from 11:20am to 11:50am in the Starr King room)
The Director of Children and Youth Ministry, volunteer lay leaders, and youth lead an energetic and fun worship geared towards elementary aged children with songs, stories and movement. The services will focus on the church-wide monthly worship and education theme. A collection is taken and all are invited to share the joys and concerns in their lives. Children are invited to bring a book to donate to the congregation on their birthday. After worship is over, the children can chose from a variety of activities that always include Spirit Art and Spirit Games on the second floor. Spirit in Action will be an option when appropriate.

Spirit Art: Children ages 4 and older
(Sundays at approximately 9:50am and 11:50am, Art Room 2nd Floor)
After worship in the Starr King room, a volunteer from the congregation leads an art project for children centered on the worship and education theme for the month. Other art projects, including ones the children give to our congregation reflectingUnitarian Universalist images, are always offered as an option.


Spirit Games: Children ages 4 and older
(Sundays at approximately 9:50am and 11:50am, Program Room 2nd Floor)
After worship in the Starr King room, children can choose from a variety of games, including ones they bring themselves. A paid teacher leads active, cooperative games that center on the worship and education theme for the month. The teacher takes leadership in creating a culture of care and respect that reflects Unitarian Universalist values and supports children in building a positive sense of identity as members of a spiritual community through leadership, service, and community building.


Spirit in Action: Children ages 4 and older
(Occasional Sundays at approximately 9:50am and 11:50am, Program Room 2nd Floor)
After worship in the Starr King room, children participate in service projects such as gardening, mapping our streets, neighborhood clean ups and fundrasing for outside organizations. Service project this year will be:
Sept: Collect back to school supplies for students at BOOST West Oakland/ Lafayette School
Thanksgiving to New Years: Rain Gear for students at BOOST West Oakland/ Lafayette School
Jan 13: Martin Luther King, Jr. Street beautification
May 5: Secret Buddies Service Project Day

Youth Worship Arts: 4th grade through High School
(select Sundays from 10:00am to 11:15, 3rd floor)
This team of teens and preteens prepares plays,stories and other worship elements for the Worship for All Ages. You must be available at least three of the four practice dates plus the day of the service. No experience necessary. If you do not want to be in the plays you can help with the costumes and props. All rehearsals are from 10:00 to 11:15 on the third floor unless noted. Email laila@uuoakland.org before the day of the first rehearsal if you would like to be in the play or help with the costumes and set.

October 28th, 2012: Day of the Dead/Halloween
meetings: Oct 7, 14, 21 & 28
December 23rd, 2012: Solstice
meetings: Dec 2, 9, 16 & 23
March 31st, 2013: Easter
meetings: March 10, 17, 24 & 31
May 26th, 2013: Flower Communion
meetings: May 5, 12, 19, and 26


Young Religious Unitarian Universalists (YRUU): High Schoolers
(Sunday Mornings at 1:00pm in the 3rd floor YRUU room)
The high school youth group meets the 1st, 2nd, and 3rd Sunday of each month, October through May. Meetings will take place in the Young Religious Unitarian Universalist (YRUU) room on the 3rd floor, beginning at 11am and ending at 1pm. Each meeting starts with a chalice lighting and check-ins with the group. During check-in, each member of the group may speak uninterrupted for a few minutes about how he or she has been since last meeting. Meetings include:

-Games and activities to deepen community within youth group
-Honest, respectful, thoughtful dialogue on subjects like:
UU spiritual beliefs
Friends and family relationships
Technology (Facebook, Twitter, texting, social media) and how it affects our lives
Other topics the youth propose
-"Wildcard" Sundays, which might take the form of any of the following (or something else, based on youth or parent suggestions):
Invited speaker, discussion moderator, or video related to a youth-suggested topic
Planning an "extracurricular" event like a service project or youth contribution to a worship service
Youth-planned, youth-led activity
Teens are also invited into leadership as Worship Assistants and Children's Program Assistants. Opportunities are available for youth to find 1:1 spiritual care and mentoring in conversation with our clergy and chaplains.
Contact the youth advisors at uuoaklandyouthgroup@gmail.com or our Director of Children and Family Ministries, Laila Ibrahim at laila@uuoakland.org for more information.
Youth are also involved in District programs, retreats, trainings and continental programs for UU youth from 14-20 years of age.
Future Programming:
Our Whole Lives (OWL) offered in 2014-15
This sexuality education curricula taught by trained instructors from our congregation. OWL helps participants make informed and responsible decisions about their sexual health and behavior. It equips participants with accurate, age-appropriate information in human development, relationships, personal skills, sexual behavior, sexual health, and society and culture. Grounded in a holistic view of sexuality, OWL provides not only facts about anatomy and human development, but helps participants to clarify their values, build interpersonal skills, and understand the spiritual, emotional, and social aspects of sexuality. OWL uses approaches that work!
Coming of Age: Grades 8 & 9 offered in 2013-14

Our coming of age program for prepares youth to be welcomed into the adult congregation. With the support of their mentors, participants will develop their own credos. Areas of study include: UU heritage and theology, personal beliefs, worship, and social responsibility. Culminates in the spring with a worship service in May.
Time for All Ages in Worship
Once a month, typically on the 4th Sunday of each month, children join the rest of the worshipping community in the Time for All Ages during the first 20 minutes of worship. This time includes, story, song, and interactive worship arts for the whole family. Children are then dismissed with their teachers to their program rooms for the remaining time at church.
Intergeneration services when the children and youth are invited to stay in Hamilton Hall for the entire service include:
September 2nd, 2012: Water Communion
October 28th, 2012: Day of the Dead
December 23rd, 2012: Solstice
December 24, 2012: Christmas Eve
March 31st, 2013: Easter
May 26th, 2013: Flower Communion
---
Learning Opportunities for Children and Families
At the First Unitarian Church of Oakland we strive to provide a warm and supportive community of Unitarian Universalist faith in which children, youth and their families can mature spiritually, intellectually and ethically.
---
Other Learning Opportunities
Chalice Camp
Chalice Camp is a week-long program of our Pacific Central District held in August at a local regional park for students (grades 1-6) to explore faith and have fun in an intensive Unitarian Universalist environment. Chalice Camp deepens children's identity as Unitarian Universalists and expands their knowledge of Unitarian Universalism and their capacity to be articulate about their faith. Campers explore and experience UU identity, history, and values through energetic worship, games, drama, art, and community building. Lake Temescal in Oakland provides a beautiful place to run, play, swim, and learn. By worshipping, learning, and playing with UU children from other churches, campers experience a faith community broader than their local church. For more information, check out the chalice camp website at: www.chalicecamp.org. To register fill out the form at this link: Chalice Camp registration form
Our Church-as-family Conversations
4th Wednesdays of the month, during January, February, March, April and May, 2010, at 7-9 pm
Our Church-as -Family Conversations are a safe, supportive and highly structured series of conversations where people of all ages and generations share life experiences, the stories of the things that really matter in our lives. Our church family will gather once each month to practice Beloved Listening, to deepen our spiritual practice of deep talking and quiet passionate listening. We will practice this listening with our souls wide open; practice "loving more perfectly" and help grow our Beloved Community at the First Unitarian Church of Oakland. The Conversations will happen on the 4th Wednesdays of the months of January, February, March, April and May, 2010. at 7-9 p.m., to share a warm cup, a bowl of soup, and a chunk of tear able bread.
Church-as- Family Conversations will be open to whomever wishes to participate in the specific evening's program. It will feel much like a Covenant Group but the attendance will be on a drop-in basis. No ongoing attendance commitment is required. Let the schedule fit your personal calendar. For more information contact: Beverly Smrha, 2009-2010 Facilitator, at beverlyss@earthlink.net or 510-482-3136.
Adult Learning Program
See our latest Adult Religious Education classes on the adult RE page.
Contact Information:
For more information about Children and Family Ministry Programs and opportunities, contact Laila Ibrahim, Director of Children and Family Ministries. She is in the office Tuesdays from 10am-4 pm. She is available by appointment other days and evenings. She can be reached at laila@uuoakland.org