Music Ministry

What Music Means To Us
Without music, life would be a mistake.
-Friedrich Nietszche
First Unitarian is a singing, swinging congregation full of gifted musicians and attuned listeners. Music lies at the heart of our worship services, and is one of the strong community-building forces in the life of the congregation. Many members find ways to express their creativity through a wide range of performing opportunities; our musicians range in age from 6 to 76. Diverse, eclectic, and always energetic, our program encompasses classical, jazz, folk, rock, blues, gospel…just to name a few!
On any given Sunday, you might walk into our sanctuary to hear a classical piano trio, a gospel shout, a stirring organ-and-trumpet fanfare, spirituals, bluegrass, African drumming, or the shimmering sound of bells. We believe in listening with open ears and open hearts to the power of the divine which comes to us through music, and we believe in the unique power of music to heal individuals and bring communities together.
Performing Ensembles: Opportunities to Participate


Crescendo Choir
Our church's multifaceted music program is led by the Crescendo Choir. The choir is a mixed-voice, all-volunteer ensemble that contributes significantly to the worship experience. Any church member or friend with the ability to carry a tune is welcome to join; prior choral experience, vocal training, or the ability to read music are desirable, but not required.
The choir rehearses on Wednesday nights from 7:30-9:15 p.m. from late August through mid-June, and sings twice a month for our two Sunday services. We sing music from a wide variety of cultures, genres, faith traditions, and time periods. For more information, contact musicians@uuoakland.org.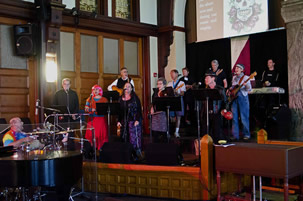 Band Without Borders
The Band Without Borders is one of two lay-led regular church music ensembles. Under the fearless leadership of guitarist Stefan Schneider, the Band plays rock, blues, folk, or bluegrass music as the spirit moves them. Players or singers interested in participating must be able to commit to a six-week rehearsal schedule as determined by the leader. The Band performs four times a year in worship services. For more information, contact Stefan Schneider at 510-292-6576.