Worship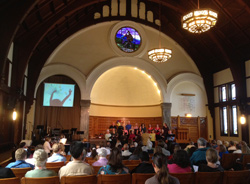 When we speak of "worship," we are referring to the shared religious life of our congregation: attending Sunday worship services, creating religious music, honoring life passages like marriage and death, and celebrating special holidays together.
"Many Windows, One Light" is our 2012-13 program year worship and learning focus for spiritual exploration and practice. Our monthly religious themes invite us to find ways to put our faith into action beyond our walls. Together and individually we consider the many ways we can reach out and work together to build a more just, loving and sustainable world.
Except where noted, our Sunday Worship Services begin at 9:25 a.m. (more contemplative worship) and 11:25 a.m. (more lively worship arts celebrations). From May 19 - August, 2013, there will be only one Sunday worship service, at 10:30 a.m.
May 2013 Worship Services:

This Month's Worship Theme is "Joy". Our Annual Focus is "Many Windows, One Light".


Sunday, May 12, 2013 (9:25 a.m. and 11:25 a.m.) - "The Joy of Childhood - Youth Sunday" Contemplative Worship at 9:25 a.m.; Worship Arts Celebration at 11:25 a.m.

Today our youth lead worship and reflect on the meaning of joy in their lives. Youth Band sings under the direction of Stefan Schneider.



Sunday, May 19, 2013 (10:30 a.m.) - "Rejoice in the World Always" ONE SERVICE ONLY at 10:30am

Worship leaders: Rev Kathy Huff and Rev. Jacqueline Duhart.
Today's service includes a child dedication. Children worship together with their families in Hamilton Hall for the first half of the service. Crescendo sings under the direction of Trente Morant. After the service all are invited to a special luncheon hosted by the Committee on Shared Ministry. We will meet in Wendte Hall with Pacific Central District Executive Rev. Robert Latham to learn more about ministerial transitions and the interim process.



Sunday, May 26, 2013 - "Flowers Speak to Us of Joy" ONE SERVICE ONLY at 10:30am

Annual flower communion service for all ages. All are invited to bring a flower to share. Oakland Youth Chorus sings.