Youth (High School) Religious Education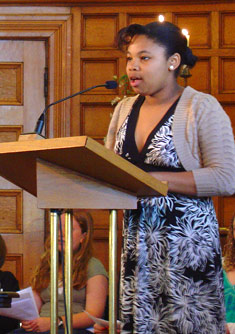 Registration
All children under the age of 18 must be registered to attend the program. Guests need to register but may attend up to three times before paying the registration fee. Only youth in grades 7 to 12 need to fill out the supplemental youth form. You can fill out a registration form at church or get them online - 2010-11 Teen's Religious Education Registration/Responsibility Form.

Sunday Program
The high school youth group meets the 1st, 2nd, and 3rd Sunday of each month, October through May. Meetings will take place in the Young Religious Unitarian Universalist (YRUU) room on the 3rd floor, beginning at 11am and ending at 1pm. Each meeting starts with a chalice lighting and check-ins with the group. During check-in, each member of the group may speak uninterrupted for a few minutes about how he or she has been since last meeting. Meetings include:

-Games and activities to deepen community within youth group
-Honest, respectful, thoughtful dialogue on subjects like:
UU spiritual beliefs
Friends and family relationships
Technology (Facebook, Twitter, texting, social media) and how it affects our lives
Other topics the youth propose
-"Wildcard" Sundays, which might take the form of any of the following (or something else, based on youth or parent suggestions):
Invited speaker, discussion moderator, or video related to a youth-suggested topic
Planning an "extracurricular" event like a service project or youth contribution to a worship service
Youth-planned, youth-led activity
Teens are also invited into leadership as Worship Assistants and Children's Program Assistants. Opportunities are available for youth to find 1:1 spiritual care and mentoring in conversation with our clergy and chaplains.
Contact the youth advisors at uuoaklandyouthgroup@gmail.com or our Director of Children and Family Ministries, Laila Ibrahim at laila@uuoakland.org for more information.
Youth are also involved in District programs, retreats, trainings and continental programs for UU youth from 14-20 years of age.